"Infinite homeland" – an extraordinary remarkable culinary concept at the Posthotel Alexander Herrmann in Wirsberg, the headquarters of the TV and 2-Star chef. Shared visions, a personal management style and a unique "Infinite" kitchen philosophy allow Alexander Herrmann and Tobias Bätz to develop a very special kind of sustainable regional cuisine together with their team.
Limits are being rethought with their very own signature at the "Restaurant Alexander Herrmann" - by Tobias Bätz. The creative team around chef Tobias Bätz is constantly developing new symbioses of long-standing traditions, curiosity, regionality and an exotic touch. As a result, under the remarkable concept of the " Infinite Homeland ", an exchange is created that sets impulses, combines expertise and allows new things to happen. Innovation and a great spirit of perfection have always been part of the Posthotel's signature.
"We are networkers and symbionts."
"Infinite homeland" also means infinite networking. Together with universities and the scientific community, with partners and suppliers, in our own team and in presentation and service. An in-house fermentation lab, a groundbreaking fusion between cuisine and service, and unprecedented collaboration with producers from the region are some of the features that are all too rarely found elsewhere. Teamwork, treating each other with respect and meeting at eye level - these are a few of the keys to productive concepts that are fun to implement.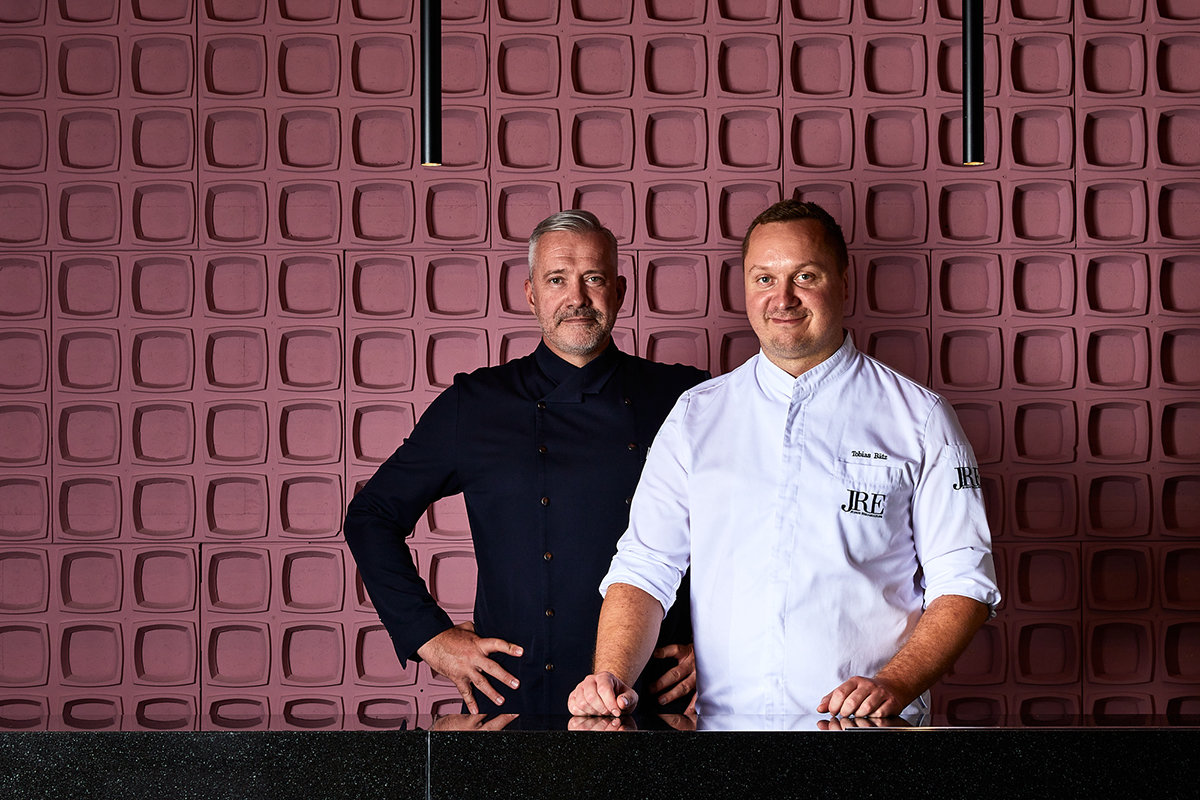 "Every single member of my team contributes to the overall success with their passion and their endowment. No player is bigger than the team. The same applies to me, as I am proud to be a part of the best team in the gastronomic scene."
Tobias Bätz, Head Chef, Gastronomical director and 2-Star chef
---
Chefs complete the service team, service staff help in the kitchen and those who want to develop are allowed to discover themselves anew - opportunities for development are Infinite here as well.
A productive collaboration between two chefs that not only proves them right with the success of their chosen line of cuisine and the culinary crowning of the second Michelin star but is also mirrored by the team. Not without reason that the team was awarded the Team Player Award by the magazine "Der Feinschmecker" for its outstanding cooperation. One of the best teams in Germany, bursting with hospitality, team spirit, innovation, and a great spirit of perfection.
"One of our daily rituals is the power briefing. A joint commitment of the team to the evening service and one of the most beautiful tasks for me as a chef. We charge ourselves with a lot of positive energy and playfully convey knowledge and information that is important for the evening and our team spirit. This is our daily drug. We are cheering on each other like a football team before an important game."
Tobias Bätz, Head Chef, Gastronomical director and 2-Star chef
"Infinite homeland"- a regional cuisine, which, nevertheless, does not have to do without exoticism.
Quality is the top priority in Michelin-starred cuisine. Jörg Osswald, alias Joshi, is a trained chef and takes his quality standards to the extreme in his current role as a food scout. Several times a week he is on the road and in search of extraordinary food and their producers. A network of over 60 hand-picked regional suppliers and gourmet artisans makes it possible to process products at the height of their maturity and aroma. Without long cold chains and transport routes. If you think of seasonal Franconian cuisine, you're not entirely wrong, but "homeland " is interpreted here in a completely new and infinite way. Supposedly exotic ingredients from regional cultivation open almost infinite possibilities. So you can also experience exotic flavors and components in the complex compositions of the menus, such as papaya, passion fruit and star fruit – directly from a tropical house in the Franconian Forest. Also, Buddha's hand, ginger, longhorn cattle or caviar come directly from Franconia.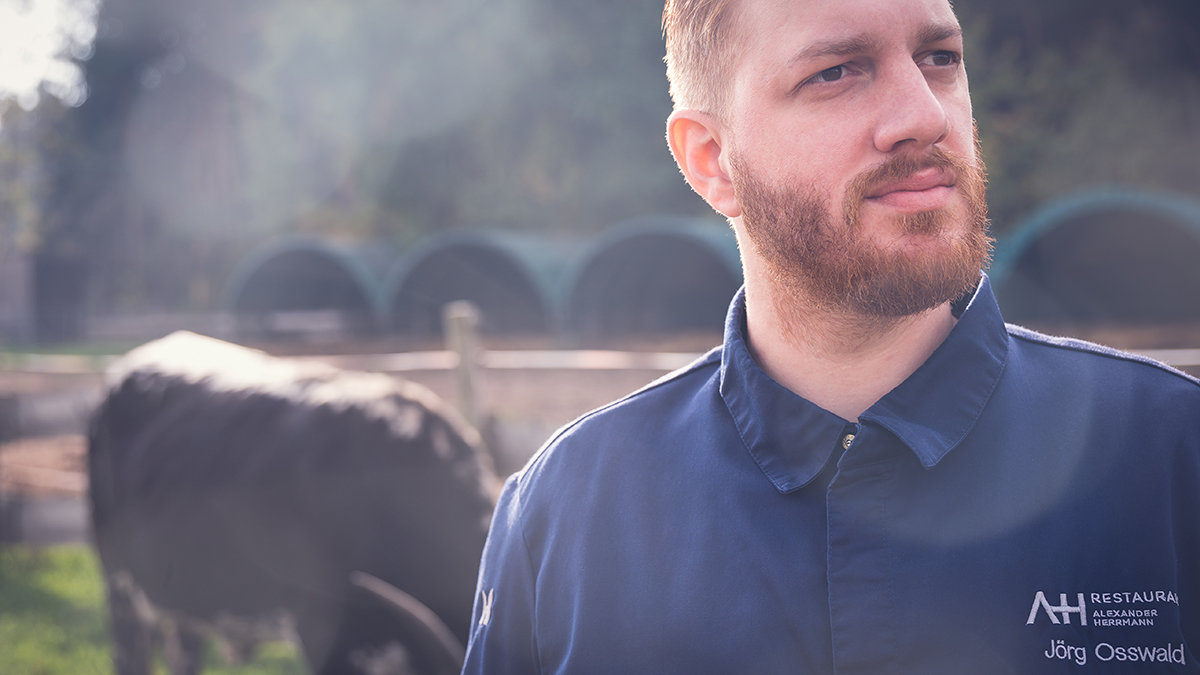 "When the head of the Franconian tropical house told me that they are now also growing star fruits, I was skeptical at first – the fruit was not very interesting for me until now. Having the watery taste of green harvested imported goods in mind, I then tasted the ripe fruit. It was clear right away - this has to be in our aroma portfolio. A fruit that is ripe for consumption offers just a completely different pleasure, a completely different aroma." -
"Joshi", Jörg Osswald, Food scout in the team around Tobias Bätz and Alexander Herrmann
---
However, the idea of harvesting more mature products at the best time also creates totally new challenges. "If 100 kg of strawberries, like our rarity the Mieze Schindler strawberries, are delivered at the same time, they have to be processed - and quickly." - Jörg Osswald.
Chris Vejdovsky, pâtissier and head of the fermentation laboratory, has taken up this challenge. So he came up with the idea of preserving fresh products and their flavors with old and at the same time innovative techniques or even influencing them, creating something new and developing things.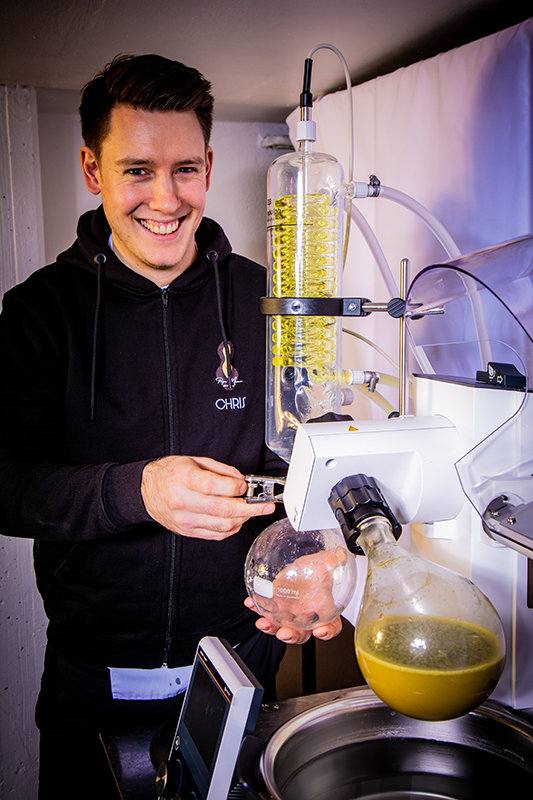 "Much of what our grandparents still knew has unfortunately been forgotten - so we have re-familiarized ourselves with the old techniques and set up the fermentation laboratory".
"Chris", Christoph Vejdovsky, pâtissier and head of the fermentation laboratory
---
Whether it´s your own miso pastes, soy sauces or fermented fruit and vegetables - the spectrum is broad and grows through experience and the desire to discover. For example, even outside the cherry season, salty cherries can be encountered in creative compositions.

"Old techniques are paving our way into the future."
Curiosity, craftsmanship, old techniques and a constant look beyond the horizon always lead to new ideas. An infinite creative process. So was the idea of processing everything according to the principle of "zero waste". Since so-called "leftovers", such as peels and seeds, can contain excellent flavours and a lot of power, new products have also been created using these things to enrich the menus. Liquid: as a cherry stone or apricot kernel amaretto or spicy: a fish sauce made from specially prepared shellfish or re-distillates from fruit and vegetable peelings, herbs or fruit trees - there are no limits to the imagination.
"We were skeptical for a long time whether we really wanted to take the next step and buy a rotary evaporator – because at some point, of course, you wonder if you are not slowly getting lost with all the techniques and the effort", so Tobias Bätz, the driving force in house, when it comes to crazy ideas, limits and the infinite homeland.
"Today, we wouldn´t want to do without it, because distillation allows us to go one step further and give free rein to our creative curiosity, the spirit of discovery and creativity in a entirely different spectrum. We offer our guests a culinary, sensual full experience. We tell our story, we take the guests with us into our world. You can see everything, smell it, grasp it as a whole and experience it in the menu at the end. This is our high-end kitchen with a mental cinema, it's a journey. This spirit is experienced as a "Infinite Homeland" only where it has developed, where it is possible at all. You need the right team, the right partners, people who believe in all the crazy things, who get involved and enjoy the "Infinite Homeland". It drives us, it motivates us, it makes us proud! This is not a sprint, this is a marathon. We do not stop and question ourselves again and again. This is the only way to create great things, the only way we can reinvent our homeland again and again." - Tobias Bätz.
Even though "Joshi" and "Chris" are now mostly busy with the processes and preparations in the background and in the fermentation lab, the two also enjoy direct contact with the guests from time to time to personally tell the stories and journeys of the products used. Often these are also their very own trips, which you can witness in the gourmet "Restaurant Alexander Herrmann" - by Tobias Bätz.
© Posthotel Alexander Herrmann, Wirsberg, Januar 2022